The Fermanagh Trust has published a number of articles on communities and energy

Maximising Community Outcomes From Wind Energy Developments
The Fermanagh Trust has experience of engaging with a number of wind farm developers. The Trust successfully administers a community fund on behalf of a wind farm developer in Co. Fermanagh and has also previously acted in a consultancy role to another wind farm developer - providing advice to this developer on applications it received for its community funds at several different wind farm sites in Northern Ireland.
These experiences prompted the Fermanagh Trust to explore further the issues surrounding how communities can engage with wind energy. With the support of The Building Change Trust, the Fermanagh Trust conducted research into this field and published the report 'Maximising Community Outcomes from Wind Energy Developments' in January 2012.
The report explored the opportunities that exist for communities to engage with commercial onshore wind energy developments. The ways in which communities can benefit from wind energy development are highlighted, including the opportunities presented by community ownership. Good practice by local and national governments, the wind industry and the voluntary sector towards engaging and working in partnership with local communities was investigated.
Copies of the main report are available from The Fermanagh Trust on request.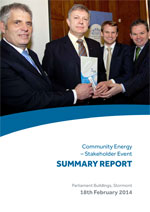 Community Energy – Stakeholder Event, SUMMARY REPORT
The Fermanagh Trust hosted an event on community energy with the NI Assembly's Committee for Enterprise,Trade and Investment at Parliament Buildings, Stormont. The event which took place on 18th February 2014, importantly looked at ways communities can engage with energy including the concept of community ownership. This report provides an overview of the issues discussed during the event.
Community Energy: Unleashing the Potential for Communities to Power Change

The Fermanagh Trust has laid out what it believes needs to be done to advance community energy in NI. The brochure on community energy can be found here.
Community Energy: Unleashing the Potential for Communities to Power Change