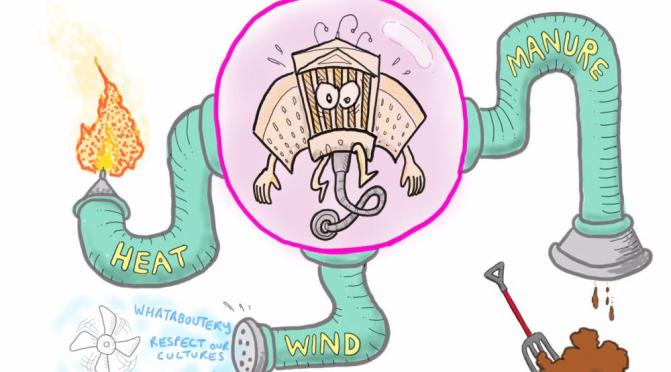 Community Energy NI has featured in Scope NI's series of exploring big economic ideas from NICVA's Centre for Economic Empowerment's Festival of Economics.

In the article Community Energy is described as "One of the most exciting ideas to emerge promising to combat fuel poverty, lower fuel prices and empower and enrich local communities."

Scope NI provides the voluntary and community sector and other interested parties with news and analysis on public policy and important developments that affect the sector. Their purpose is to stimulate more discussion and debate about policy, thereby contributing to a stronger civil society.

Titled 'Blowing in the Wind: the answer to energy woes?' the article by journalist Nick Garbutt focuses on the Community Energy, a concept championed at the Festival of Economics by Community Energy NI. CLICK HERE to view our presentation from the festival.

Community Energy projects come in many guises, some of the more successful initiatives see communities themselves developing local renewable energy projects and either provide their own power, sell electricity to the grid or both and use the profits to benefit the community and drive down prices for those suffering from fuel poverty.

The concept has been around for more than a century and there are many examples of community energy projects operating successfully throughout the world. However, Community Energy NI raise the concern that despite our rich resources, communities in Northern Ireland are missing out a concept that could be transformational for many communities, especially those in rural areas.

While Northern Ireland has a very strong community development ethos, community energy projects themselves are at a very low base, with only a small number of co-operative community energy ventures operating. What communities need here is greater advice, guidance and funding. Our neighbours in Scotland have shown what can be achieved over a relatively short period of time with over 400MW of community energy on the ground!
To read the Scope NI article CLICK HERE.
Community Energy: Unleashing the Potential for Communities to Power Change